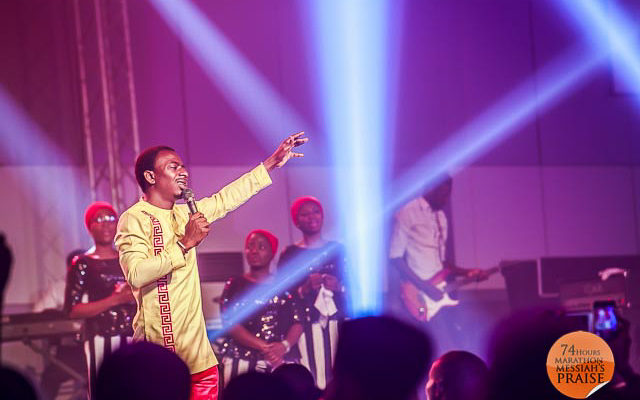 Region 15 praise teams comes up on native attires all dressed for an "Igbotic" session that will be filled with all dances you can never expect with wonderful songs to fit into the songs but these guys gad the whole thing locked down. This reminds me of a quote I am used to "you prepare to repair". Something that was impossible to fulfill naturally comes to you when you give yourself to doing a task. This exceptional display by the choir cannot easily cancel out what others have done but I have no choice than to commend them for making a hit out of their session.
Nativity was revered as songs like "oyinoma", "chioma", "Jehovah oyin ole jikagi" were presented. Words cannot describe the beauty and expression that comes with singing in the Igbo language probably because I am fascinated with it without understanding it. The decisive and affirming tone that comes with the language gets in my skins and charges a part of my mind for more praises to flow to God; this is wonderful as the crowd goes all smiles.
Region16 choirs take the floor appearing official with skirts, suits and trousers. Not much attention was paid to their foreign renditions because of tired legs. The regular songs that many were used to was not quickly presented and this made some just go to their seats either shaking their heads at what seems boring and to some others who quietly observed. I looked around to see that people had different priorities at the time trying to make calls, attend to their children; some watched the drummer probably trying to figure out how he comes up with such sounds. Strangely as i walked outside to observe the environment i heard a boy say "i would like to learn how to play the keyboard".
This left me with a thought that whenever you are around those that are available, responsible and committed, a desire can easily be conceived in you to do more that you are doing presently. Desires of men towards God cannot be totally killed because there is a place in their soul that becomes incomplete as they look for their charm to fill their vacuums. I walked back into the auditorium with my thoughts being stable to the effect of grabbing what could be lost in the present moment which is "the shape in which God could appear".
I am trying to get a touch of this but an involvement in active worship is the only way to understand.
The moment gets better as the well decorated choir goes into worship and forces the audience to stand and adore God not but speech but by involvement. They came up with the regular worship songs to bring the audience back alive such as "You are the reason i live", "Tell me what can i do?", "Na you be God O". i love their wisdom in knowing when they need to get their attention. if it were possible for them to change into something more convenient for the native songs they now sang, i am sure they would because as soon as they switched to nativity their official appearance almost became an hindrance to the possibilities of totally expressing themselves. they led us into a song like "Jesus, i hail O", "Ole Igwe", "Poya Ebube dike", "People dey ask me say", "Onye so buta", "Jesus i love you O". i could not believe they had taken me through an unusual moment which took me time to absolve but it was a great one by these brethren.