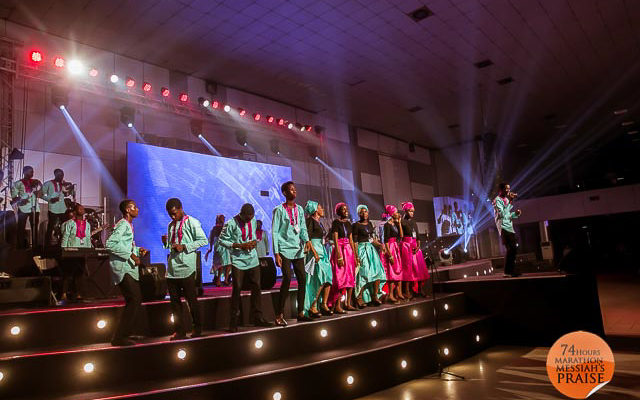 The popular perfected praise singers of RCCG began worshipping and were almost hitting our hearts with songs of deep praise before the General Overseer and his wife calmly walked in. my nerves were quick to perceive blood, sweat and tears of the years of struggle, prayer, studying and risks that these young couple have gone through in a short time they have spent on earth. Although we celebrate their lives and especially on a day like this that the man of God struck 74, but I cannot but dwell a little on the pains, hurts and disappointment they have gone through together holding hands and hearts together to rid themselves of their fears casting their burdens upon the Lord in the face of death and desperation.
My eyes welled up with tears when he picked up the microphone after his lovely wife introduced him to us. He walks around weakened because it lacks food but maintained by the oil of grace. I am not saying he lacks abundant food in the house; of course he is emphatically blessed of God as he is employed and paid by the owner of the earth. Just to discipline his desire for lust, he denies his body of food, shaking like a broom in a storm and yet committed to the course. He understands his purpose and pursues it without much concern to the bickering of haters.
I was not crying because I wanted to be sentimental but had all these thoughts running through my bleeding heart and I could not control the effect thereof. In a short moment, he asks us to make a personal request before he prays for us. What can be greater than grace to make heaven and take as many people as possible? As we conclude our prayers he decided to pray for us, I could not but say resounding Amen as well as others that were present. The crowd could not contain the love expression from these couple as they yelled incessantly. He finally knelt down on one of the baskets that held the prayer points of those that wrote their desires in a sheet of paper.
He was on his way out when the Perfected Praise Team resumed their rendition putting the crowd to a shouting praise service, on behalf of a life that has been beautified in praise with deep sacrifice for unusual results as far as ministry is concerned. It is obvious that after 74 years before another request is made Praise should be sent with this body to the creator that made it possible for him to have a clean road map towards destiny. This praise team definitely knows what we need to do and they really sang perfect praise to God from our perspective. Songs such as "Jehovah reigns" and "Lati ojo ti mo tin rin" were thunderous and we danced well, God be praised. With this I say Happy Birthday to Pastor E A Adeboye.