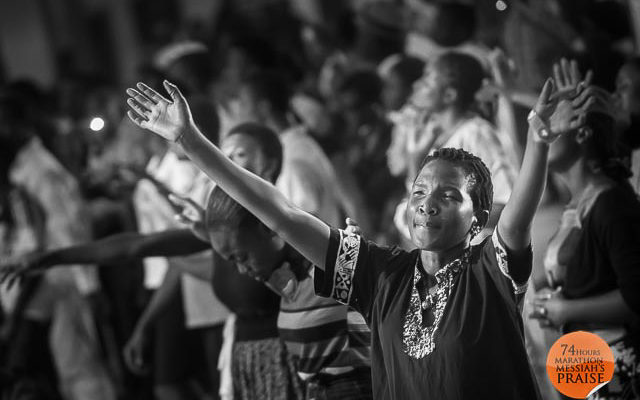 "When the Spirit of The lord is Upon my soul, I will Dance like David danced" is the Best way To Describe the feel Of Uncommon Praise and Worship that flows At 74HoursMMPraise On Wednesday 2nd of March 2016.
The 3pm to 5Pm session that Preceded that Ministration by the South Africa MMpraise session was Highly Graced with Uncommon kind of Praise and worship, as worship leaders like Ife Odogiyon, Danny Priaze, Gbenga Oke Lead the worshipers through an Heaven Gate Opening Kind of praise, to the extent that people danced and forgot about their cares and worries praising and worshiping God in the beauty of his holiness, this session of praise personified the saying that, "Heaven came down and glory fill my soul".
When it was 5pm Nigeria Time, people who were at the Youth Center in Lagos Nigeria were connected Live and joined praise Leaders from South Africa to praise God Excellently and once again it was evident that indeed Praise does not need VISA to cross borders, just like it also was confirmed on Tuesday when MMPraise UK Version came live.
The South Africa praise session was a great Display of the glory of God, inadvertently rich in African Culture, rendering great praises to God, for His grace upon the life of our father in the lord Pastor E.A Adeboye.
When the first and Second South Africa Praise Leaders came up, People thought they had seen it all, not until the third Praise leader took us through a powerful session of praise, that made people to come out of their shell and praise God in their own unique style, some people rolling on the floor, Some people Jumping, some went as far as lifting Chiars,the whole place was on fire for God. When the connection ended at 7pm it was like it should just continue, this could be seen in the way worshipers in Nigeria Shouted and cried out with a loud voice, all to the glory of God.
Indeed Praise Does Not Need Visa TO Cross Any Border, The most Interesting part of this whole Praise Beyond Border Thing is that While the Praise Session was Going on in South Africa, the presence of God was very evident in Nigeria, This further confirms that God is Indeed Omnipresent.
In the presence of God There is fullness of Joy, the three hours session, with Judith,John and Viola and James,was indeed a very Powerful and Interesting session.
Written by:
Omowale APOTIERI ,
Aanu Aluko