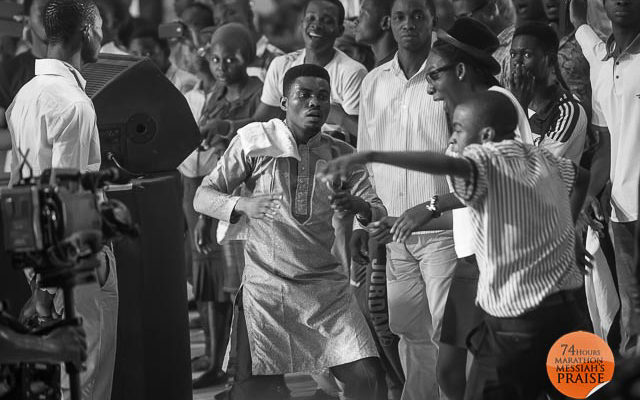 Taiwo Ibidapo came up on stage in an unlikely fashion gaining the attention of the crowd with his beautiful blue suit. He carefully directs the hearts of the audience to God's presence with the resounding drums that vibrated through the walls of the auditorium. His songs were a reminder of how much God loves us. While he concluded, the backups of Tosin Bee were already coming in to take the stage all dressed in office materials.
I first thought they were coming to give some announcements as host only to grab the microphone and backed up Tosin while he led us through a wonderful worship session. He lay on the ground to worship not minding some dirt on him. His humility was well received as some went sentimental and started crying. The God that we serve is a powerful God, some openly confessed during the ministration that God have truly been good to them. In this I am not left out also.
However the United Kingdom brethren did well to organize a worship session of 2 hours with special appearances of Mike Aremu, Faith child, Evans Ogboi and then the church choir. As we observed and joined in chorusing what we knew, someone beside me said "we don't understand what he is saying" as he referred to Faith Child but I heard and loved his lyrics which is not bad. The ever energetic Mike Aremu gave a mind lifting rendition as we all followed in singing as we raised our voices to the heavens.
Bukola Bekes almost stole the show when she came up stage with her singers, the crowd went into a row. An irony to laziness with her high pitched voice spoke in the language of the spirit for a long time with some lyrics that provokes the prophetic being played on the background. I would not forget her emphasis on faith and receiving from God because she saw the angels of God present in the room as she prophesied to the audience. The ripple effect of her rendition was yet to settle when Pastor Nathaniel Bassey showed up.
This time I knew it would be difficult for anyone to leave without being blessed, everyone that feigned sleep suddenly rose to all these songs while going on. They were met by a response to the minstrel's instructions to open our mouths and pray. I could not lose focus at a time like this and so I left all I was doing and scrubbed my life in tongues for repairs and replacements in areas where required. He further sang a new song that says "We give you praise, for all you've done". The whole house gladly sang along to enjoy from the grace that flowed from the man of God that led us. A taste of greenies in the fields of God refresh our health.